Letting our people shine! Developing next generation leaders in Mondi plants and mills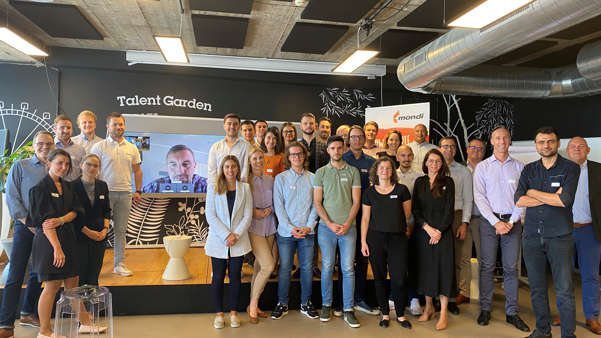 Developing and inspiring our next generation of leaders in our plants and mills.
NEXGEN is a learning and development platform launched in 2020/21 designed to identify, develop and inspire our next generation of leaders in our plants and mills. We've created a programme that spotlights internal potential, creates inspiring opportunities to build the diverse talent that will drive our future, fosters cross-functional exchange, and makes opportunity visible to everyone so we inspire and retain our young professionals, and visibly enhance an inclusive culture. The programme was even awarded with the "Mondi Diamond Award" in the "inspiring people" category, an internal prize for outstanding projects.
The initiative was co-created with the Corrugated Packaging business unit as preparation for future positions to foster D&I and promote people rotations within Mondi. The development and learning stream combines individual and collective elements. What makes NEXGEN unique is that it is strongly owned by the business – senior leadership is committed and invests time to be part of this exciting journey.
NEXGEN fellows work together in cross-functional teams to tackle real business challenges based on principles of agile project management. The group projects are presented to the business management who commits to further work on the findings, implement where useful in the organisation and keep in touch with the community to keep the spirit and network alive.
In the pilot cycle in 2021, 25 colleagues were selected to take part in the NEXGEN programme. Fellows from Corrugated Packaging and Kraft Paper participated, one-third of them were women.
In 2022, the programme was expanded to further business segments, including Corrugated Packaging, Kraft Paper and Functional Paper & Films. 24 fellows (almost 50% females) have been grouped into 5 project teams and embarked on their project development journey in July 2022. They are again supported by Mondi senior leaders as project sponsors/ mentors and a buddy from the pilot NEXGEN cycle.
To summarise, NEXGEN builds on many of our existing People Development offerings, brings to life our grow-create-inspire-together ambition and visibly contributes to an inclusive culture that values and celebrates the huge diversity we have in our operations. It represents a unique, inclusive and agile learning and development journey with several networking opportunities for the involved fellows who will surely benefit from this exciting time.
You might also be interested in...