Work at Group office Vienna
Together for a sustainable future: the Group Office Vienna is one of our two headquaters and the centre of our business untis as well as group functions. #GrowCreateInspireTogether
Take a virtual look into our Group Office!
Virtually visit our Group Office Vienna and take a look at your possible future workplace! Simply click directly into the image and move the mouse to get an all-round view, change floors using the navigation points in the orange box and follow the arrows on the floor through the hallways and rooms.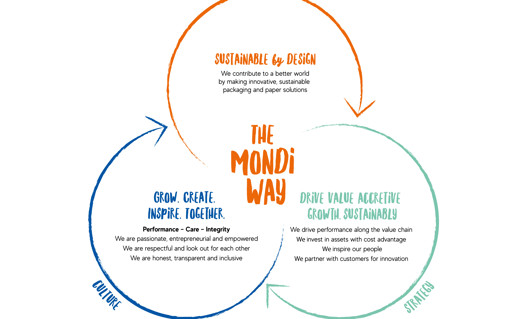 The Mondi Way
Our strategic approach builds on our current competitive advantages while providing a clear roadmap for our investments and operational decisions so that we can continue to deliver sustainable value in the future. The Mondi Way shows how our strategy, purpose and culture are intrinsically connected.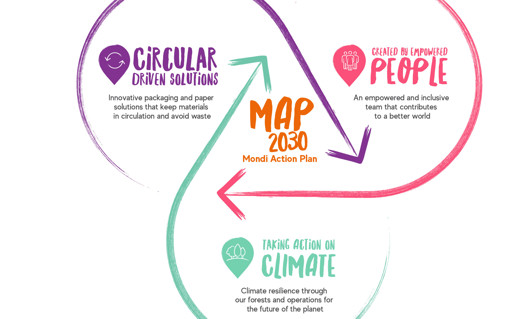 MAP 2030
The Mondi Action Plan 2030 (MAP2030) sets out the actions we want to take to meet our ambitious new sustainability commitments by 2030. Our areas of action are divided into circular solutions, created by empowered employees, and measures against climate change. Our MAP2030 is based on responsible business practices in the areas of human rights, local communities, purchasing and environmental performance.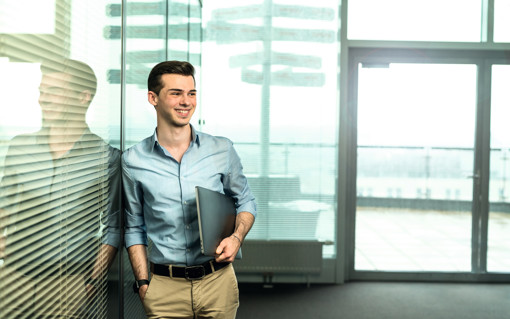 Your career
Students, e.g. (holiday) internships, dual studies, contract work.

Graduates, e.g. traineeships, junior positions

Experienced professionals, e.g. specialist, senior or manager positions
Didn't find a suitable job for you? Send us your unsolicited application or create a job alert!
Get to know us, take a look behind the scenes and discover a variety of career paths.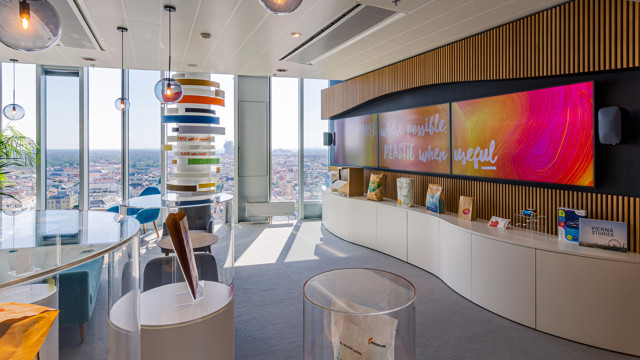 #WeAreMondi
Paper is powerful. It connects with everybody.
Meet Zoe Truchy - our passionate brand manager.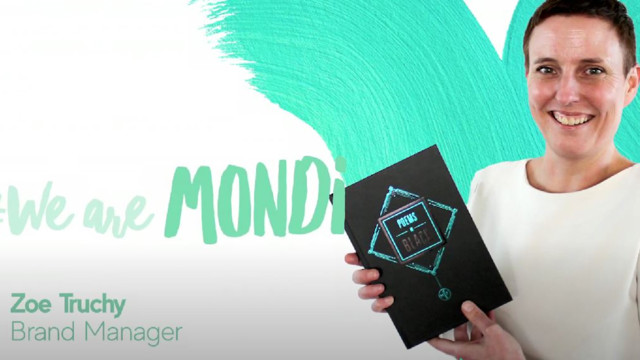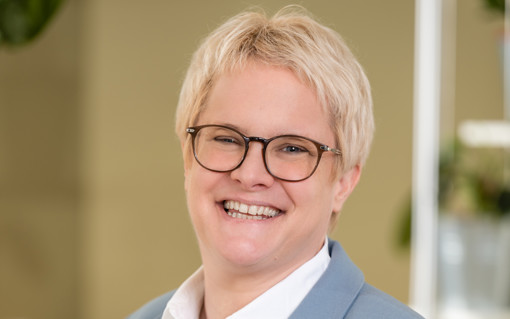 #BelongingForEveryone
Diversity and Inclusion
We offer an exciting and inclusive environment where everyone is welcome to openly express their thoughts and our employees can inspire each other and grow together. In line with our approach, we support many institutions and cooperate with partners such as myAbility, Girls Day and Vienna Pride and run our own women's network in the group office. Our management promotes this commitment word and day. Our CEOs are each particularly committed to a diversity dimension and actively develop and promote initiatives in these areas.
What defines our workplace?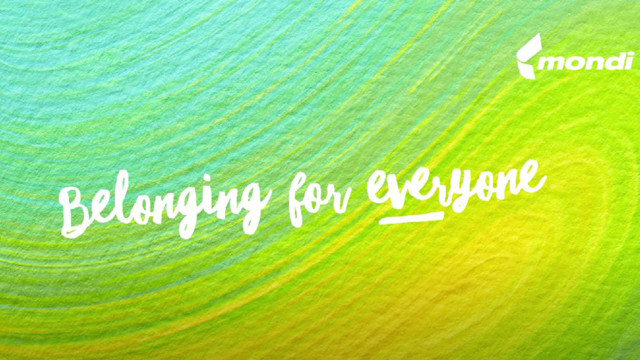 Our collaborations and initiatives
myAbility

As a partner of the myAbility talent program, we offer students and academics with disabilities job shadowing, giving them an insight into the working world at Mondi.

Volkshilfe (People's Aid)

As part of our Corporate Volunteering Initiative, Mondi colleagues can get involved socially e.g. by cooking for the homeless or organising leisure activities for children and young adults.

Pride Parade

Under the motto "Sustainable by Design, Inclusive by Choice" we took part in the Pride Parade (rainbow parade) in Vienna for the first time in 2023 with our own float.

MPWN - Women's Network

Our internal women's network, the Mondi Professional Women Network (MPWN), regularly organizes events to further develop and promote the careers of Mondi colleagues.

Girls Day / Daughters Day

As part of Girls Day, with Mondi Korneuburg, we are introducing the daughters of Mondi parents to technical careers relating to packaging and paper in an interactive program.

Talent Relationship Management

To get in touch with promising talents at an early stage, we cooperate primarily with the WU Vienna (SIMC & CEMS Master, Master Class CEE), various HTLs and a HAK.
Our benefits
Our benefits depend on your position and department and can include:
Discounts and subsidies
Job Ticket (Wiener Linien annual ticket)
Subsidy for the climate ticket
Lunch subsidy/Sodexo
Offers for our employees – large selection of discounts from top brands
Lots of discounts in Vienna Mitte – The Mall and around, e.g. pharmacy
---
---
Flexible working hours
Flexible working hours
Remote work including the provision of required equipment and a subsidized home office flat rate within the legal framework
Partial retirement, sabbaticals, trust-based working hours and compressed working weeks by agreement
---
---
Fitness and health
Free use of the nearby fitness center
Special conditions at John Harris, Tennispoint Vienna, GymClub and FitInn
Company doctor including free vaccination campaigns and preventive examinations directly on site
Financial subsidy for computer glasses
Employee Assistance Program (psychosocial services)
Financial support for participation in running events including a Mondi running shirt
Mondi football team
In-house massages at reduced prices
Free fruit and drinks
Free organic feminine hygiene products
Special conditions with Merkur supplementary insurance
---
---
Inspiring workplace with international collaboration
English as a corporate language
Creative zones
Quiet areas
Cross-departmental project teams/focus groups
Shared desks where it makes sense
Video conferencing application
Chat tool
Data exchange programs
Intranet (news, knowledge management)
International exchange meetings in all departments
---
---
Training and development
Mondi Academy – numerous training courses on hard and soft skills
E-learning options via online seminars
Coaching/mentoring
Learning apps like Busuu or Blinkist
Systematic feedback (e.g. 360°)
Mandatory career development reviews (PDR – Performance & Development Review)
Talent development programs, such as L.E.A.D., NexGen or IGP (International Graduate Programs)
---
---
Family
Bilingual private kindergarten in the building with extended opening hours
Birth gift
Part-time paternity leave
Father's leave/"dad month"
E-learning to prepare for parenthood
Financially supported Mondi Summer Camp
---
---
Networking opportunities
Buddy program
Mystery lunch
The Mondi Professional Women's Network
GROWnetwork for interns and trainees
---
---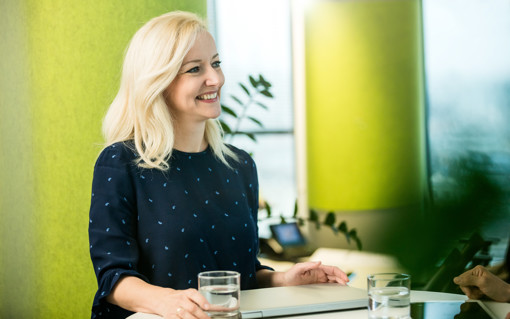 Our recruiting process
Has one of our advertisements caught your attention? Or were you recommended by one of our employees? In both cases, we look forward to your application! In order to reward the efforts of our employees who point out a job to their friends through our employee referral program, they receive a small thank you if their recommendation is hired. What you can expect in the recruiting process:
Your application arrives
Arrival of your application via our online recruiting tool.
Screening of your application by our recruiters and hiring managers in the following days.
---
---
The first contact
Contact us by telephone to arrange a (telephone) interview – online or physically in our group office.
You haven't heard from us yet? Approach us proactively! We always do our best, but it can happen that we get sick or a technical error delays our response. 
---
---
Interview(s)
A second interview with an extended group of interviewers will be arranged to give you the chance to get to know potential team members. You may be asked to prepare a business case or presentation.
Due to the complexity of certain positions, a third or fourth interview may take place.
---
---
The decision
We will contact you and inform you of our decision. Congratulations if you get an acceptance! Find out what to expect in our onboarding process below.
---
---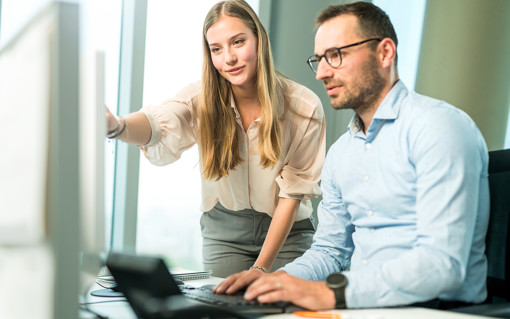 Come on board!
Have you received an offer from our recruiters? Congratulations! Your Mondi Experience will start shortly and we will do our best to make your start as easy as possible.
Before you start:
You will receive a welcome email with all the necessary information for your first day. In addition, your manager will also contact you to plan the first few days with you.
---
---
Your 1st week
To welcome you, you will be given a small welcome gift. Additionally, you can take part in our (virtual) onboarding sessions, where you will learn everything about the company, the tools and platforms used, and your most important contacts. Your department will also support you in the first few weeks and months with an individual onboarding and training plan.
---
---
Your 1st year
From day 1, your buddy will accompany you through your first six months at Mondi. Your buddy is available to answer any company-related questions you may have. As part of our feedback culture and to create transparency around your goals, your manager will conduct a Performance Development Review with you that will outline your roadmap for the coming year.
---
---
Our awards
BEST RECRUITERS

Due to our outstanding recruiting services, we were awarded the 2022/23 gold seal of quality in the paper industry by BEST RECRUITERS for the second time in a row.

Top Company 2023

We are Top Company 2023 at kununu and one of the most family-friendly companies in Austria according to kununu and freundin magazine. Second award in a row.

LinkedIn Top Company

LinkedIn awarded us the Top Company 2023 Award for supporting the long-term professional success of our employees. We are proud of 16th place!

BGF seal of quality

Our numerous health measures, awarded with the BGF seal of quality 2022-24 for the second time in a row, make a significant contribution to employee satisfaction.

Universum

We are considered a particularly attractive employer, especially for students in engineering/IT and natural sciences, which is why we were awarded the Student Most Attractive Employers Award 2022 by Universe.

equalitA

The equalitA seal of approval, awarded by the Federal Ministry of Labor and Economic Affairs, distinguishes us as one of the Austrian companies that actively promotes women within the company.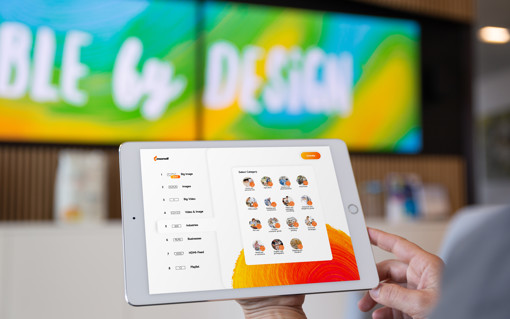 Contact us!
Mondi Group Office Vienna
Marxergasse 4A
1030 Wien
+43 1 7901 30
Your contact persons:
Cristina Espino (she/her) and Ines Lagler (she/her)