Key performance indicators
Our KPIs offer an insight into how we're performing against our long-term strategic focus on delivering value accretive growth, sustainably.
Delivering against our strategy in 2022
The KPIs shown below are based on the Group's continuing operations (which exclude the Russian operations) for 2022, 2021 and for sustainability metrics, 2020. All other prior period amounts include the Group's Russian operations. The different presentation basis is represented by the vertical dotted line.
Return on capital employed (ROCE)
Why this is a KPI
ROCE provides a measure of the efficient and effective use of capital in our operations. We compare ROCE to our current estimated Group pre-tax weighted average cost of capital to measure the value we create.


2022 performance
The Group achieved a ROCE of 23.7%.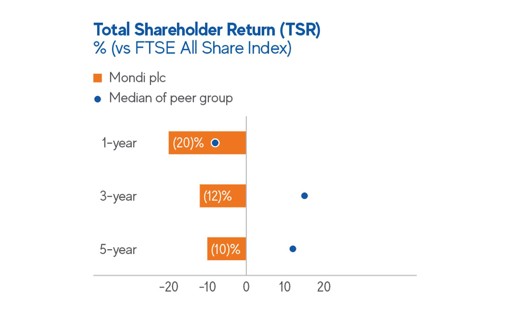 Total Shareholder Return (TSR)
Why this is a KPI
TSR provides a market-related measure of the Group's progress against our objective of delivering long-term value for our shareholders. TSR measures the total return to Mondi's shareholders, including both share price movement and dividends paid.


2022 performance
While the recommended total dividend per share for the year represents an 8% increase on 2021, the share price performance in the year was negatively impacted by the Russian invasion of Ukraine given the Group's significant exposure to Russia (around 20% of total EBITDA over the previous three years).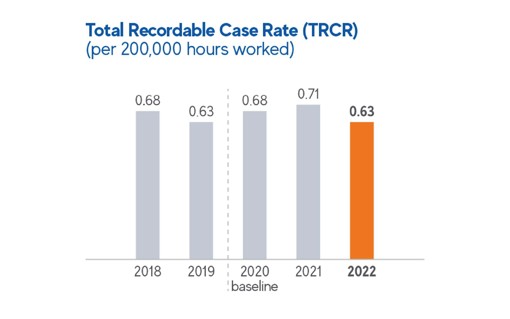 Total Recordable Case Rate (TRCR)
Why this is a KPI
Keeping people safe and healthy is a moral and a business imperative that applies to all who work for and on behalf of Mondi. Our 24-hour safety mindset supports our goal of sending everybody home safely, every day.

2022 performance
In 2022, our TRCR was 0.63, representing an 8% improvement on our 2020 baseline. We regretfully experienced one fatality at our Frantschach mill (Austria) in the year and two life-altering injuries.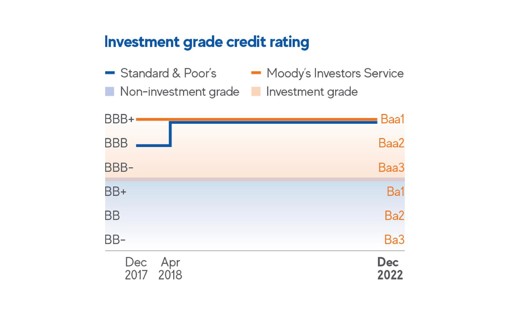 Investment grade credit rating
Why this is a KPI
We aim to maintain investment grade credit ratings to ensure we have access to funding for value accretive investment opportunities through the business cycle.

2022 performance
Our investment grade credit ratings were reaffirmed during the year – Standard & Poor's BBB+ (stable outlook) and Moody's Investors Service Baa1 (stable outlook).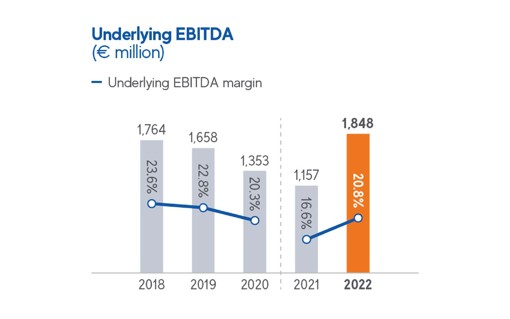 Underlying EBITDA
Why this is a KPI
Underlying EBITDA provides a measure of the cash generating ability of the Group that is comparable from year to year. Tracking our cash generation is one of the components we measure when we assess our value creation through the cycle.

2022 performance
Underlying EBITDA of €1,848 million represents a 60% year-on-year increase. The Group's underlying EBITDA margin was 20.8%.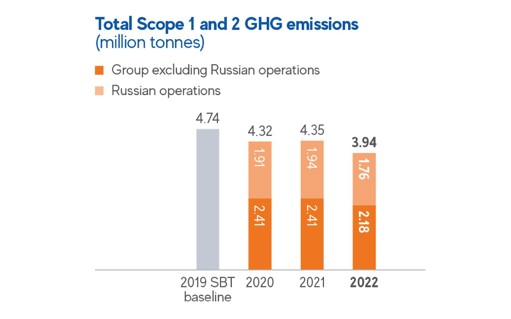 Total Scope 1 and 2 GHG emissions
Why this is a KPI
Our focus is to reduce our GHG emissions to address climate-related impacts and secure the long-term success of our business.

2022 performance
We were among the first companies in our sector to have our science-based Net-Zero targets validated by the Science Based Targets initiative in 2022. We reduced our absolute Scope 1 and 2 GHG emissions by 17% compared to our 2019 baseline and remain on track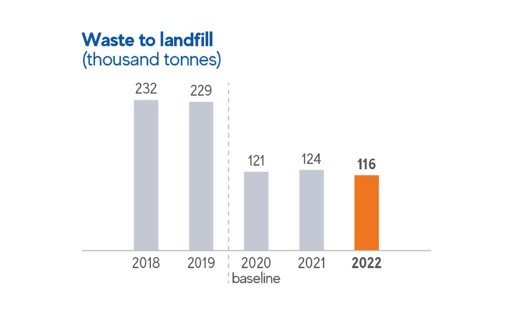 Waste to landfill
Why this is a KPI
Our goal is to keep materials in circulation. We are focused on reducing our waste and reusing or recycling unavoidable waste generated in our production processes instead of disposing of it to landfill.

2022 performance
We continue to make progress against our target of zero waste and have successfully reduced our absolute waste to landfill from our manufacturing processes by 4% comparedto our 2020 baseline.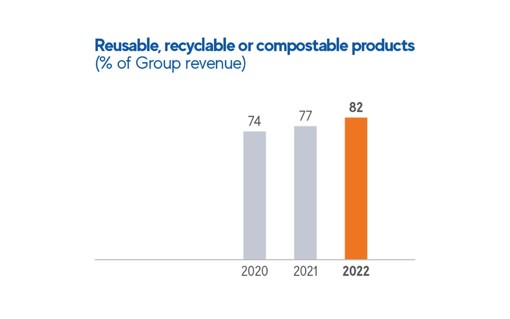 Reusable, recyclable or compostable products
Why this is a KPI
The demand for sustainable packaging continues to rise, with brands and consumers looking for solutions to help meet their sustainability pledges and support the transition to a circular economy. We began reporting our progress against this KPI in 2020.

2022 performance
We estimate that 82% of our revenue in 2022 was generated from products that were reusable, recyclable or compostable. We are working towards our ambitious target of reaching 100% by 2025.