Mondi and Vafo Group unleash recyclable dog food packaging for leading Finnish brand Hau-Hau Champion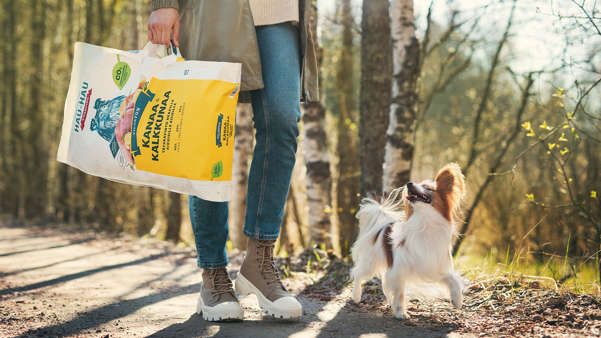 Mondi to produce a recyclable mono-material packaging for Hau-Hau Champion, one of Finland's most popular premium dog food brands available in grocery stores, produced by Prima Pet Premium Oy, part of Vafo Group.
Flexible mono-material solutions replace unrecyclable plastic packs while offering high barrier protection and increased consumer convenience.
Mondi's EcoSolutions approach supports Hau-Hau Champion in reducing its environmental impact.
Mondi, a global leader in packaging and paper, is supplying a range of recyclable mono-material pet food packaging for Hau-Hau Champion, one of Finland's most recognised brands in the premium dog food segment. The new packaging fulfils the pet food producer's objective to launch a reclosable and recyclable packaging solution that does not compromise on performance and retains the strong brand recognition in stores. It also addresses sustainability concerns of end consumers that are playing more of a role in the purchasing of pet food and products.
Mondi's customer-centric approach, EcoSolutions, helped Hau-Hau Champion find a high-barrier solution that can be reclosed, keeps food fresh and confines any smells. The previously unrecyclable multi-layer packaging contained a metallised layer which was replaced by Mondi's recyclable mono-material packaging: a reel material for form-fill-and-seal (FFS) 1.5kg bags and pre-made FlexiBag Recyclable for bags up to 15kg. FlexiBag Recyclable is a mono-material polyethylene (PE) pre-made bag developed specifically for recycling, which means it can be deposited directly into Finnish plastic recycling streams.
The new packaging responds to consumer feedback asking for stronger carrying handles and a user-friendly reclosure to prevent kibble from going stale and thereby avoiding waste. It also features an anti-slip matt lacquer exterior and is fitted with a valve that allows air to escape for optimal palletisation.
Through our EcoSolutions approach, we help customers find environmentally responsible alternatives without compromising on performance, ease of use, or aesthetics. For Hau-Hau Champion, this involved asking many questions to gain deeper insight into the needs of the brand and its end users, as well as collaborating closely throughout the process to test and evaluate all solutions. The new packaging also supports Mondi's MAP 2030 sustainability goal to make 100% of its products reusable, recyclable or compostable by 2025.
Suvi Sillvan, Brand Specialist at Hau-Hau Champion adds: "With Hau-Hau's brand refresh, we were looking for packaging that fully aligns with our commitment to reduce the carbon footprint of our products and operations as well as upgrades the packaging to match the high quality of the product content. Given that this is a premium product, we are especially pleased with the high-quality finish, including the printing, which retains brand familiarity on the shelf and informs consumers that they can easily recycle our dog food packs. The new packaging material also fully supports the fact that all our dry dog foods are now completely CO 2 neutral through carbon emission compensation."

Retailers are also welcoming the change, which is already on shelves but will accelerate with major rollout of the brand relaunch across Finland from October.
Contact
Judith Wronn, Senior Communication Manager
Flexible Packaging & Engineered Material
Tel: +49 151 17714692
Email: judith.wronn@mondigroup.com
About Mondi
Mondi is a global leader in packaging and paper, contributing to a better world by making innovative packaging and paper solutions that are sustainable by design. Our business is integrated across the value chain – from managing forests and producing pulp, paper and plastic films, to developing and manufacturing effective industrial and consumer packaging solutions. Sustainability is at the centre of our strategy and intrinsic in the way we do business. We lead the industry with our customer-centric approach, EcoSolutions, where we ask the right questions to find the most sustainable solution. In 2020, Mondi had revenues of €6.66 billion and underlying EBITDA of €1.35 billion.
Mondi has a premium listing on the London Stock Exchange (MNDI), and a secondary listing on the JSE Limited (MNP). Mondi is a FTSE 100 constituent, and has been included in the FTSE4Good Index Series since 2008 and the FTSE/JSE Responsible Investment Index Series since 2007.
About Mondi Consumer Flexibles
Mondi Consumer Flexibles is part of Mondi's Business Unit Flexible Packaging and a global manufacturer of tailor-made flexible plastic and hybrid packaging solutions that are sustainable by design. The product range includes pre-made bags, stand-up pouches and high-performance barrier materials with film- and paper-based solutions. Making it possible to provide paper where possible, and plastic when useful. We serve some of the world's biggest brands and FMCG's in categories such as fresh food, pet food, home, and personal care. Committed to quality, we provide customer-oriented packaging solutions and cutting-edge innovations developed by our state-of-the-art R&D centre in Gronau. Our network serves customers from 27 operations located in 12 countries.