Felleskjøpet packs premium pet food in Mondi's FlexiBag Recyclable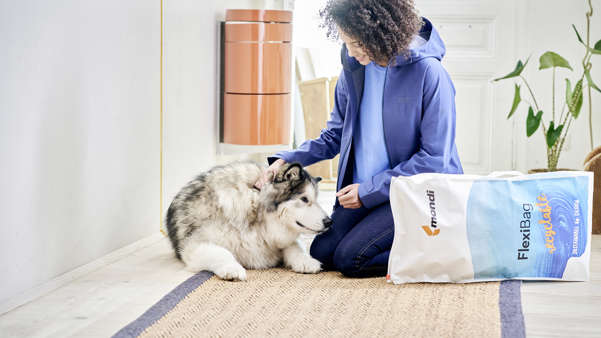 Mondi collaborated with leading Norwegian pet food manufacturer Felleskjøpet to switch to recyclable high-barrier packaging for the relaunch of its Appetitt premium brand
Mondi's FlexiBag Recyclable will be used to pack and protect dry dog and cat food
The mono-material bags are recyclable in Norwegian plastic recycling streams and contribute to a circular economy
Mondi, a global leader in packaging and paper, has developed a recyclable high-barrier packaging solution for Norwegian pet food manufacturer Felleskjøpet, that keeps material in circulation and avoids waste.
Felleskjøpet is using Mondi's FlexiBag Recyclable, a pre-made mono-material polyethylene (PE) bag, for the relaunch of its Appetitt range of dry cat and dog foods. It will replace the previous unrecyclable multi-layer solution, delivering packaging that is designed for recycling, according to CEFLEX D4ACE guidelines, and is recyclable in existing Norwegian plastic recycling streams.
Mondi's FlexiBag Recyclable provides excellent product protection and preserves the premium pet food, thanks to its high barrier material. A slider enables easy opening and closing for the bigger bags to ensure long-lasting freshness, while a handle allows for convenient transportation. FlexiBag Recyclable has excellent print qualities that guarantee good visibility on-shelf and can communicate all product and recycling information clearly.
Pal Wikstrom, Sales Manager Nordic Consumer Flexibles, Mondi, says: "This partnership was all about designing appealing packaging for the Appetitt pet food, meeting the consumer needs of convenience and product protection, as well as helping Felleskjøpet meet its sustainability goals. It meant working together closely and asking all the necessary questions at each stage of the manufacturing process to deliver a solution that works for the customer, the product, the planet – and of course the pets."
Our relaunched Appetitt range packed in FlexiBag Recyclable will be available in stores from October. The pet food is delivered in its best condition, it is both protected and kept fresh by the new packaging. This is an important step in our journey towards being a more environmentally responsible organisation.
FlexiBag Recyclable will be presented at Mondi's booth 04:21 in hall D at this year´s ScanPack packaging fair, taking place from 4 to 7 October in Gothenburg, Sweden.
Contact details
Judith Wronn, Head of Communication
Flexible Packaging
Tel: +49 151 17714692
Email: j udith.wronn@mondigroup.com
About Felleskjøpet:
Felleskjøpet is a cooperative owned by more than 41,000 farmers, and is the primary supplier of operational assets and technology to the Norwegian agricultural industry. With a turnover of 18.7 billion NOK, Felleskjøpet Agri has 4,107 employees. Felleskjøpet's business also includes property management, bread and baked goods, equipment for parks and facilities, as well as food and appliances for pets. Felleskjøpet is the market regulator for grain, and a purchasing and sales cooperative for its members. Felleskjøpet's purpose is a short and long term contribution to strengthening its members' finances in the agricultural business.
felleskjopet.no / appetitt.com
Contact details
Veronika Skagestad Aubert, Head of Communication
Felleskjøpet Agri
Tel: +47 936 03 500
Email: Veronika.Skagestad@felleskjopet.no
About Mondi
Mondi is a global leader in packaging and paper, contributing to a better world by making innovative solutions that are sustainable by design. Our business is integrated across the value chain – from managing forests and producing pulp, paper and films, to developing and manufacturing sustainable consumer and industrial packaging solutions using paper where possible, plastic when useful. Sustainability is at the centre of our strategy, with our ambitious commitments to 2030 focused on circular driven solutions, created by empowered people, taking action on climate.
In 2021, Mondi had revenues of €7.0 billion and underlying EBITDA of €1.2 billion from continuing operations, and employed 21,000 people worldwide. Mondi has a premium listing on the London Stock Exchange (MNDI), where the Group is a FTSE100 constituent, and also has a secondary listing on the JSE Limited (MNP).