Good vibrations – how this special team is driving our growth strategy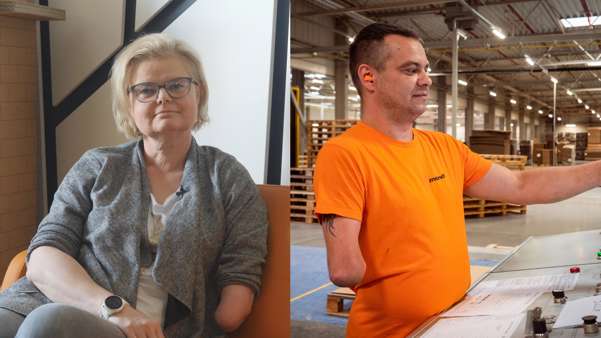 Get to know our colleagues from Mondi Simet and the history of the plant.
Mondi Simet is one of our Corrugated Packaging plants in Poland. Described by colleagues as a very special place to work, Mondi Simet has a unique history, a growing workforce and major growth investments underway. We spoke to colleagues Patryk Berger, Iwona Krawczyk and Krzysztof Jakubowski to find out more as part of our Corrugated Packaging 'Spotlight on...' series.
Let's begin with some background.
Mondi Simet started life in 1969 as a cooperative for people with disabilities. The plant has a long history of entrepreneurialism; originally focused on metalwork (which is where the 'met' in 'Simet' comes from), the plant expanded in the mid-1990s, when the team spotted an opportunity in the corrugated market and invested in a simple converting machine. Such was their success that in 2010 they built and expanded into new buildings and in 2016 joined Mondi Group.
Since then, the plant has gone from strength to strength, with the extension of the building and installation of a state-of-the-art corrugated converting machine in 2017 and a new round of investment in 2023 to expand the warehouse, enabling Simet to meet the growing need for heavy-duty, complex and multi-element corrugated packaging.
Around 30% of our 220 colleagues in Mondi Simet team have a disability, an ingredient that has made a positive contribution to the growth journey of this special team.
First, we spoke to our colleague Patryk Berger who is one of our Machine Operators in Mondi Simet.
I joined Mondi Simet when I was 27. I'm an operator of our corrugator, which means I prepare the machine for production, check the quality of our products and fulfil orders according to the production plan. Investing in modern machines at Simet means that we can expand our skills and I'm currently learning how to operate one of these new machines.
At the age of 23, I had a serious accident and lost my right hand. At first, it was very difficult but, with the support of my family and friends, I managed to survive this period. After a three-year rehabilitation, I started looking for a job, but employers were not interested in hiring me. After a year of searching, I was demotivated and disappointed. That's when I came to Simet, where I was offered a job as a porter and then promoted to one of our machine operators, which turned out to be a good choice and a chance for a normal life.
When I needed help, Simet was there for me. Since it was founded, the company has employed many people with disabilities. They gave me the right tools, training and an Individual Rehabilitation Programme to help me succeed. It's important for a company to treat people like me in the same way as other colleagues – and give us the same opportunities. I feel that Mondi Simet doesn't just look at me through the prism of my missing hand but allows me to develop my skills and advance in my career.
When Mondi acquired Simet many of us were concerned about the future. There was no need to be. Quite the opposite – many investments have been made that adapted the workplace even better to our needs.
Next, we spoke to Iwona Krawczyk, our Chief Accountant at Mondi Simet.
Mondi Simet's atmosphere is unique. Everyone who joins us notices it – we're open to diversity, which means that a person's qualifications and skills are more important than their origin, age, gender or disability. We value openness, respect and authenticity, which gives us a real competitive advantage and makes us one of the most attractive employers in the area. We recently received the Employer with Heart award and even government bodies have acknowledged our uniqueness and positive work culture.
I've been working at Mondi Simet for 30 years. At the beginning of my career, I worked in sales and production, then in 2007 I moved to the accounting department as a specialist in economic and financial affairs. In 2015, I was promoted to accountant and then two years later chief accountant, and I now lead a team of four people. Although I was born without my left hand, I do not consider myself disabled; I don't feel any limitations in my daily life. My colleagues don't notice my disability, they focus on my work rather than my physical condition.
We're a good example of how to effectively integrate people with many forms of disability. It's a gradual process. Employers are often afraid of the unknown, so it's important to be open to recruiting people with disabilities. Firstly, it's important to explain what we expect from candidates clearly; secondly, you have to determine precisely what someone can and cannot do, such as shift work, night work, etc. Then you have to decide whether you have a suitable position that will eliminate any professional limitations and fully access a person's skills. Of course, that may require additional investment. I believe it's worth taking on these challenges because it means you acquire great employees who identify with the company, who are loyal and who bring a lot to the organisation. It also teaches others empathy and understanding.
It is great to see how dynamically the company is developing. The recent investments in Mondi Simet have brought many benefits, which have contributed to improving work efficiency, product quality and increasing the level of safety in the plant. I also believe that our numerous investments give our colleagues space to develop and grow.
We'll leave the last word to Mondi Simet's Managing Director, Krzysztof Jakubowski:
I'm really proud of this team and what we are achieving. When I joined, we had 200 people working here and we were making 3 million square metres of corrugated board every month. Now we have 220 people, and we produce 10 million square metres each month. Investing in the machine is important – yet first you must create the right team. To get good people, you have to create a good atmosphere, to do a lot for the local community. We're active in ecological groups and we have a great reputation.
It's important to me that we keep our share of colleagues with disabilities and that we're creating an environment where you can't necessarily tell if colleagues are living and working with disabilities or health conditions. When we have open minds and treat people fairly, it's better for everyone. We're known for taking safety seriously and for creating an open culture where people can be themselves.
I go to work with a smile. It's important to like the place where you spend the majority of your time. A key ingredient is having colleagues who are positive, optimistic and enthusiastic. Life is not always easy, but we are really lucky. It's this optimistic experience – investment and new possibilities. We are growing the market, we're growing financially and we are changing social conditions for people. It's all creating positive vibrations!
You might also be interested in...