How can forests help us move away from fossil-fuel based products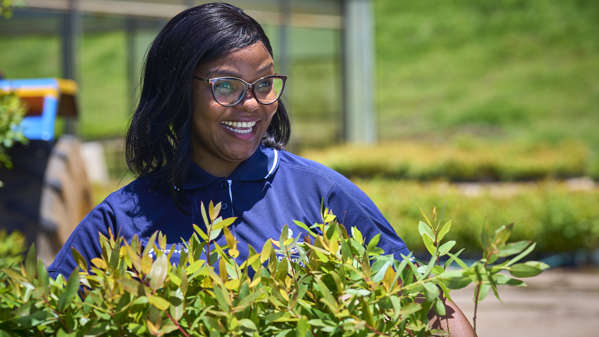 Fossil fuels are used to produce vast amounts of products globally. By burning fossil fuels – a non-renewable resource – and changing how we use the land, human activity is the leading cause of changes to our climate (IPCC). Businesses are responding by making strong commitments to reduce their impact on the environment, however these commitments come with a range of sizeable challenges. For example, economic factors such as cost, and the lack of sustainable alternatives continue to hinder the move away from fossil-fuel based products.
In 2015, governments from all over the world committed to reduce carbon emissions under the Paris Agreement made at COP21. Today, in 2023, the world is still not making sufficient progress to meet the emission reduction targets, according to the most recent IPCC report, AR6. The report emphasised that global emissions must peak by 2025 if the Paris Agreement is to be successfully implemented, highlighting the necessity for deep, rapid and sustained reductions in all sectors.
Forests vs Fossil fuels
More sustainable solutions are urgently needed to help industries and society move away from fossil-fuel based products, which is where forests can play a leading role. Forests provide many opportunities to create new sustainable innovations, most notably for packaging, textiles, construction material and biofuels.
For example, wood pulp, which is sourced from trees, is a natural and renewable resource that can be processed into a variety of materials, including paper and cardboard. Fibre-based materials can serve as an alternative to traditional single-use plastic packaging. Fibre-based packaging has a number of distinct advantages – it comes from renewable resources, can be sourced responsibly and is the material with the highest rate of recycling today, with 81.6% of paper-based packaging recycled in Europe (Eurostat).
Innovative paper solutions today can be imbued with barrier properties, like an oxygen or moisture barrier, methods that were in the past only possible with plastic materials. Innovations like this support the transition to renewable and recyclable alternatives, providing industries with new opportunities to move towards a more sustainable future. At Mondi, this means we can use paper where possible, plastic where useful – as we work to make our products sustainable by design.
As more countries ban single-use plastics, and with upcoming regulations such as the Packaging and Packaging Waste Regulation (PPWR) in the EU, fibre-based products have an increasingly important role to play in providing sustainable packaging solutions. The sustainable working forests model is one solution to balancing environmental preservation with commercial importance, helping maintain biodiversity and other ecosystem services.
When forests are managed responsibly , the production of fibre-based products can bring considerable benefits for people and planet. Through sustainable working forests, the industry has played a role in the growth of European forest cover – now 30% larger in area than in the 1950s (Cepi), enabling the continued provision of ecosystem services, such as carbon sequestration and regulation of water systems, as well as natural resources, like wood and biomass. The forest industry plays a vital role in driving the growth of the circular bioeconomy by providing renewable and recyclable materials.
Forests are well recognised for their central role in sustainable development, aligning with many of the UN Sustainable Development Goals, including supporting sustainable consumption and production patterns, combating climate change, protecting terrestrial ecosystems, and halting biodiversity loss. At Mondi, we take a science-based approach and are working with the International Union of Forest Research Organisations (IUFRO) to identify response measures to make our forests more resilient to climate change.
Fibre-based solutions at Mondi
Taking a proactive role in creating sustainable solutions is not a choice, it is essential to what we do at Mondi. Sustainability is critical to our product design and is at the centre of our strategy. With roughly 80% of our portfolio based on wood-fibre and 20% on flexible plastic packaging, we take a science-based life cycle approach to identify the best solutions for our customers, with a focus on climate impact and a sustainable end-of-life in terms of recyclability or compostability. Taking action on climate is a key driver as it pushes us to innovate to reduce our impact on the planet, one example of how this can be done is using paper-based solutions, like kraft paper and corrugated cardboard packaging, instead of plastic.
Corrugated packaging consists of linerboard and fluted paper, which combine to provide cushioning and support for a variety of products during shipping and storage. Its strength, printability, recyclability, and customisability make it an ideal choice for a wide range of applications, including fast-moving consumer goods, eCommerce, and heavy industrial goods. Its ability to be customised to specific shapes and sizes makes it adaptable to a wide range of needs, and its recyclability makes it an attractive solution fit for a circular economy.
Mondi is the leading corrugated solutions producer in Europe and has used corrugated packaging to create many alternatives to fossil-fuel based products. One example is our Hug&Hold packaging, which replaces the plastic shrink film for PET bottle bundles with a kraft paper sleeve and a corrugated handle. Hug&Hold, the only completely paper-based sleeve and handle concept on the market, was recently recognised by the Forest Products PPI Awards for product innovation.
This is just one example of how Mondi is committed to creating sustainable solutions. As a global packaging and paper producer, Mondi is dependent on the natural resources provided by forests and is committed to maintaining their resilience and responsible sourcing with the aim of accelerating the transition away from fossil fuels to more sustainable solutions.
Author
Susan Brunner
Head of Product Sustainability and Positioning, Mondi Group
---
---
You might also be interested in...