Specialists and Experts
As a member of our team, you will take an important role in creating innovative and sustainable packaging and paper solutions, such as the world's strongest paper, and sustainabale food packaging.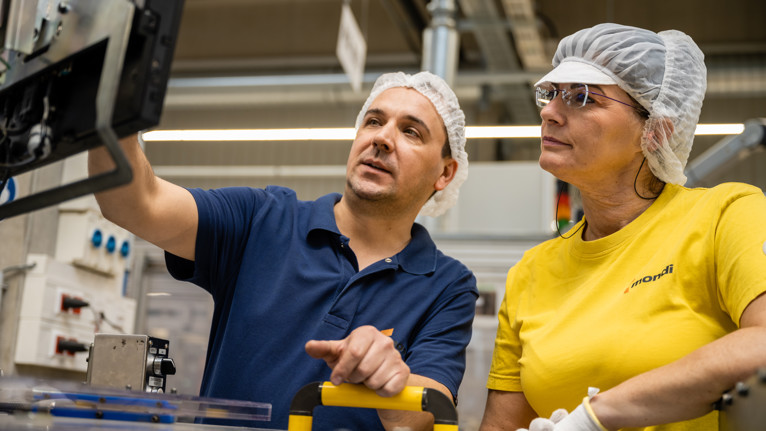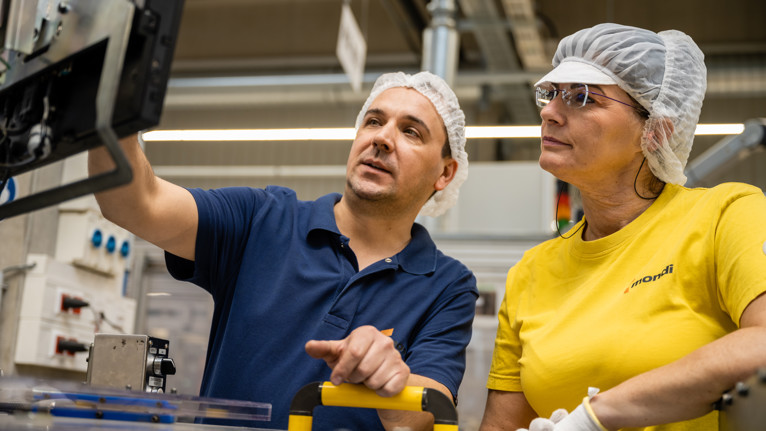 Become part of our team!
At Mondi you will develop your true potential and help make the future better and more sustainable. We care about our employees and the environment and offer you the training and support you need to be successful as part of a strong team.
We strive for a work culture that motivates our employees to develop their full potential. Our employees are the engine of our passion for performance and the key to Mondi's success, because they always give their best - for their colleagues and for our customers.
Start your Mondi career in an exciting working environment and become part of our successful team. We promote individual development, e.g. as part of training and further education at our internal, group-wide Mondi Academy.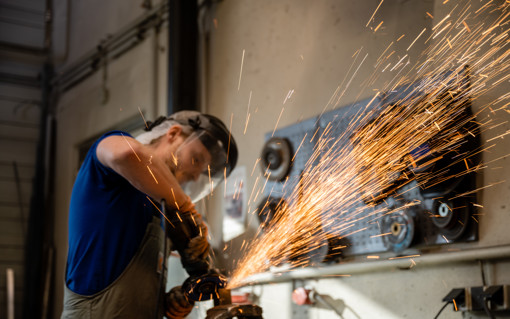 Benefits and health
The safety, well-being and health of our employees are our top priority, which is reflected, among other things, in various health programs and the quality seal for company health promotion. Aside from everyday work, we hold regular team events, such as excursions or celebrations, to promote cohesion and collaboration. We also offer employee discounts in nearby shops, company canteens or meal subsidies.
FAQ - frequently asked questions
What benefits does Mondi offer?
In addition to job- and performance-related remuneration, you can look forward to various special benefits depending on your location: employee bonus program, meal allowance, anniversary pay, partial retirement, your own fitness studio or fitness studio cooperation, employee advice, company bicycles, fruit basket, canteen, health programs, Corporate Benefits - special discounts at a variety of online shops.
---
---
Can I advance my career at Mondi?
There are no limits to career paths in an international company. It is important that you are flexible and want to develop yourself further. Our regular employee discussions serve to recognize and promote your potential. In addition, in coordination with your manager, you can attend various seminars - including in Mondi's own academy - and thereby (further) develop your specialist and leadership skills.
Wir möchten, dass unsere Mitarbeiter:innen bei ihrer Arbeit all ihre Talente nutzen und entfalten können. Hierfür eröffnen wir bei Mondi viele Wege: z.B. Übernahme von herausfordernden Projektaufgaben, individuelle Weiterbildung sowie vielseitige Seminare der konzernweiten Mondi Academy.
---
---
Can I also apply on my own initiative?
Absolutely! You can get an overview of current offers on our careers page. If you cannot currently find a position that matches your profile, please use the opportunity to send us an unsolicited application.
---
---
Which application documents do I need?
We do not specify which documents you must submit. Nevertheless: a complete application with your CV and certificates is always an advantage and speeds up the application process. Of course, we are also interested in why you are applying to us and what special skills you bring to the advertised position. Your availability completes the application.
---
---
How do I know that my application has been received successfully?
Once your documents have been received, you will receive a confirmation of receipt by email.
---
---
What can I expect in my first few days at Mondi?
A good start is the best basis for successful collaboration. With the help of a systematically organized onboarding program, we support you in finding your way and integrating into Mondi as quickly as possible. In training courses and in individual discussions, you will not only get to know your workplace, but also your colleagues at the location, important processes and procedures as well as work-relevant tools and methods and much more.
---
---