Our tree improvement programme
In South Africa, Mondi manages around 254,000 hectares of plantation forestry landholdings. Maintaining healthy and resilient ecosystems is critical for the sustainable management of our production landscapes.
Changing climate conditions such as heavy rainfall, drought, and windstorms have left forests more vulnerable to pests and diseases in recent years. This affects the health of forest ecosystems and can negatively impact the productivity and resilience of the forestry sector.
Mondi has developed a comprehensive tree improvement programme and silviculture techniques to address the challenges ahead with respect to changing climate conditions in the region and to maintain healthy, resilient and productive tree plantations.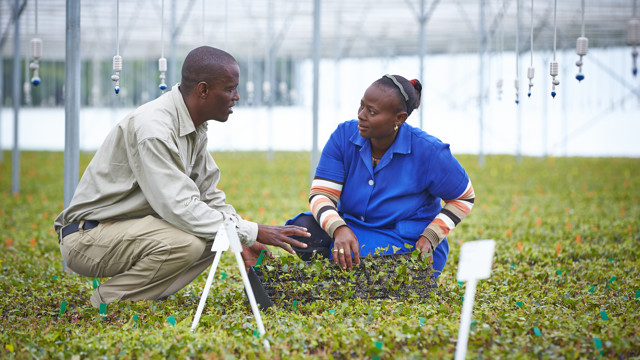 The effects of climate change in Southern Africa
Climate changes, leading to the subsequent heating of the ocean and the associated El Niño effect, disrupt the usual weather patterns and global climate. The Southern African region is highly vulnerable to climatic variability and the region itself may be significantly affected by climate change. Central Southern Africa, for example, is a region likely to be drier in the future during mid-summer while temperatures are projected to keep rising steadily. These climate changes impact infrastructure, agriculture, water resources and ecosystem services.
Tree breeding for productive, sustainable and resilient forests
Mondi's tree improvement programme aims to utilize genetics to select for tree mechanisms that can withstand certain effects of climate change and which are vital to ensure the long-term sustainability of the forestry industry.
These programmes aim to identify tree genotypes with resistance to pests and disease and improved frost and drought tolerance, enabling sustainable timber production under more variable climatic conditions, for example.
It is an intricate process whereby genomic tools are used to improve our ability to quickly respond to environmental pressures brought on through climate change. The aim is to select productive genotypes for different geographical regions; a key determining factor is understanding the interaction between the genotype and the environment.
Although we talk about the environment collectively, weather patterns, climate, and climate change are unequivocally connected to the environment. This supports the need to test various genotypes in anticipated or projected climate-changed environments.
These tools can be of great use to mitigate risks of climate change on our landscapes and maintain healthy, resilient and productive tree plantations.
You might also be interested in...