Mondi expands ISTA-approved testing services to all its eCommerce packaging solutions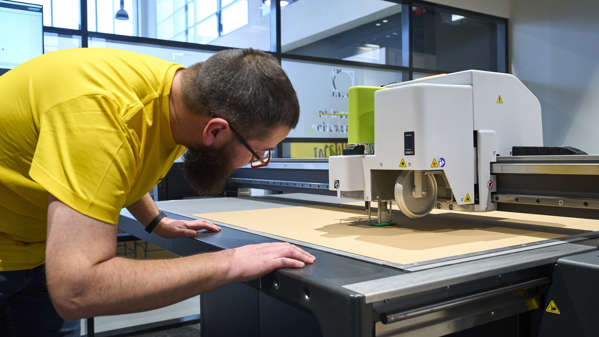 Mondi simplifies eCommerce packaging testing with Amazon-approved service, making it easier for businesses to ensure their eCommerce packaging is both protective and sustainable
The International Safe Transit Association (ISTA) and Amazon Packaging Support and Supplier Network (APASS) certified Performance Lab complements our Mondi Group eCommerce service offering for high-performance eCommerce packaging
State-of-the-art equipment simulates the typical impact of packed goods in each step of the supply chain, and custom expert improvement proposals are offered
Mondi, a global leader in sustainable packaging and paper, is pleased to announce the expansion of its International Safe Transit Association (ISTA) and Amazon Packaging Support and Supplier Network (APASS) certified Performance Lab services to cater to the growing demands of eCommerce customers.
Mondi's Performance Lab can now also test converted solutions such as MailerBAGs and corrugated boxes. Located in České Budějovice, Czechia, the Mondi Performance Lab complements its eCommerce service offering for high-performance eCommerce packaging, from base material to converted solutions. The laboratory's state-of-the-art equipment simulates the typical impact of packed goods in each supply chain step.
Our certified Performance Lab is designed to test the quality and resilience of eCommerce packaging under realistic conditions. Our testing environment simulates common circumstances on packed goods in each step of its journey, providing a data-based evaluation to identify potential packaging deficits or weak points in the design. Our internal experts can also provide improvement recommendations – an offer as customised as our eCommerce packaging solutions.

Nedim Nisic, Mondi Group eCommerce Director.
Advancing eCommerce Packaging Excellence
Mondi's ISTA laboratory is the partner of choice for testing Amazon's Tier 1-3 compliant packaging; FFP – Frustration Free Packaging, SIOC – Ships in Own Container and PFP - Amazon Prep-Free Packaging. The lab services include clamp, vibration, drop, and compression tests, certifications, and test reports for various ISTA standards. Mondi's eCommerce services and its full-material portfolio are widely recognised as a supplier of economic, efficient and easy eCommerce packaging solutions and base material, as well as for setting new standards in the European market. By choosing Mondi's Performance Lab services, customers benefit from expertise in developing packaging that complies with relevant regulations, certification schemes and sustainability requirements.
"Packaging plays a crucial role in delivering a superior customer experience while ensuring product safety during transit in the rapidly evolving eCommerce landscape," adds Javier Prieto, the leader of the Czech Mondi ISTA Lab. The lab initially focused on corrugated solutions and has now expanded its scope to all converted eCommerce solutions. "With increasing emphasis on sustainability and material optimisation, businesses need a reliable partner to help navigate the challenges of packaging design, testing and certification. It is an important step that we are now offering certified tests as part of our service for all our converted eCommerce packaging customers. We are proud to offer this service to accompany our innovative eCommerce portfolio that helps businesses easily achieve their eCommerce packaging goals".
Find more information on Mondi's Performance Lab services and our Mondi Group eCommerce multi-material portfolio
About Mondi Group eCommerce
Mondi Group offers a full portfolio of eCommerce packaging solutions and products that are fit for purpose, innovative and sustainable by design. We are setting new standards in the industry with our expertise in sustainable materials and product design. Driven by an agile and customer-centric mindset, our network of more than 100 in-house packaging designers develop award-winning eCommerce solutions together with our partners. Our focus is on decreasing total packaging costs, reducing waste, and meeting end-consumer needs through a combination of our sustainability expertise and a full portfolio of multi-material solutions, including kraft and functional barrier paper, paper bags and corrugated solutions.
Contact
Julia Madeleine Rohracher, Marketing & Communication Manager
Mondi Group eCommerce
Tel: +43 1 790 13 4640
Email: julia.rohracher@mondigroup.com
You might also be interested in...