Mondi Performance Lab
We perform ISTA standardised tests to ensure that your packaging is suitable for your product and protects it in your specific supply chain.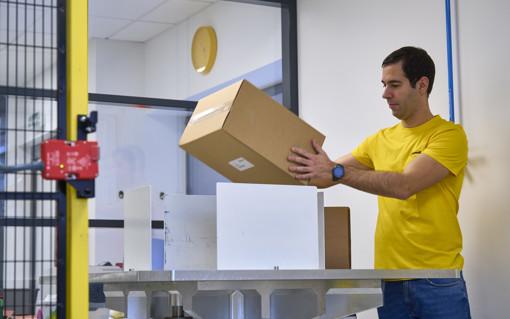 Zero loss
No product breakage
Testing of your pack (product and packaging) eliminates the risk of product breakage and claims and thus reduces costs, reputational damage and the overall C02 footprint. You also benefit from the certainty of packaging that meets your business partners' and carriers' requirements. Data-based evaluation of performance tests gives a clear understanding of how your packaging or product copes with different types of distress. It also aids rapid problem-solving by helping to pinpoint any performance deficits or weak points of a design.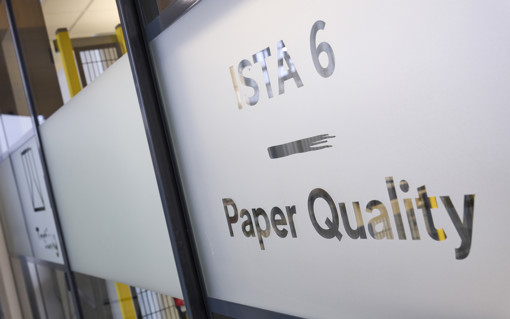 Certified
Amazon-approved testing
In order to provide the best possible support with e-commerce sales channels as well, the Mondi ISTA laboratory is also an Amazon-approved member of APASS, the Amazon Packaging Support and Supplier Network. This makes our laboratory a partner of choice for testing Amazon's Tier 1-3 compliant packaging (FFP, SIOC and PFP), a market standard of the online marketplace to reduce packaging volume in eCommerce logistics.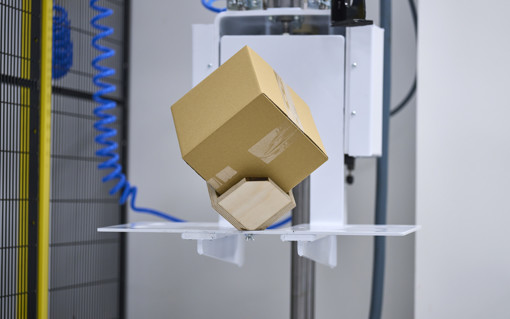 Your service
Assessments or certifications
Whether you need to provide a certificate or would like an independent assessment of your packaging solution, we are here to help you. Our experienced lab staff works with a large variety of industries and will define the test specifics together with you, based on your individual inquiry. They offer a short turnaround time for standardised test reports or specific certifications. By request, we can also offer improvement proposals such as more suitable board grade or design.
ISTA and APASS at a glance
Amazon Packaging Support and Supplier Network or APASS
The Amazon Packaging Support and Supplier Network (APASS) was created to support vendors, sellers and manufacturers in certifying their products as Prep Free Packaging (PFP), Ships in Own Container (SIOC) or Frustration Free Packaging (FFP) according to the three-tier packaging standard introduced by Amazon.
Through this network, Amazon provides a list of companies and labs that can help with testing, designing and supplying packaging in line with Amazon's Packaging Certifications. The list is accessible to Amazon vendors. By meeting these packaging standards, Amazon sellers and vendors will significantly reduce costs and new product registration time.
The APASS Network list is provided to Amazon sellers for their convenience only, so that they can more easily find ISTA-certified labs designated as having the proper equipment and abilities to perform ISTA testing. Sellers who ship through Amazon are not yet obliged to use the APASS packaging certification services. If they elect to use these services, they contract with the relevant APASS members directly. The type of service will depend on your needs and packaging type (e.g. packaging performance based on maximum total weight, packaging performance with a specific product inside).
Mondi operates an ISTA-certified lab in České Budějovice in the Czech Republic. As an official member of the APASS network, Mondi offers its package testing services directly to vendors, sellers and manufacturers in compliance with Amazon's certification requirements.
In this context, Mondi also partners with brands to develop and certify packaging according to Amazon's three-tier packaging standard while ensuring both the best possible product protection in the rugged e-commerce logistics chain and cost effectiveness in order to support brand growth.
---
---
ISTA and ISTA 6-Amazon
ISTA, or the International Safe Transit Association provides standards for packaging design to ensure the protection of products during transport.
ISTA 6-Amazon is a package program designed to mitigate the risks of damage that may occur during the distribution of products from Amazon's warehouse to the customer's doorstep. This program was developed through the collaboration of Amazon and ISTA, ensuring that the products are delivered safely and securely to the end-users. It follows strict guidelines and protocols to minimise the risk of damage, ensuring that customers receive their orders in excellent condition.
---
---
Tier 1 – Frustration Free Packaging (FFP)
Frustration Free Packaging is a packaging standard introduced by Amazon to facilitate the Amazon process, reduce environmental impact, enhance the customer experience, and achieve a minimal damage rate. Its key criteria are:
Protect against damage (no additional prepping needed by Amazon)
Designed to reduce waste (no overbox needed to be provided by Amazon)
Recyclability (pack must be 100% recyclable)
Customer experience (easy to open – product needs to be easily removed within 2 minutes)
Predefined min./max. dimensions
Optimisation potential here includes the reduction of:
packaging components
volume of air shipped
box-to-product volume ratio
Compliance requirements: ISTA 6-Amazon, SIOC
---
---
Tier 2 – Ships in own container (SIOC)
The SIOC Amazon designation means no prep is needed by Amazon– no Amazon box or overbox is required. Optimisation potential here includes:
readiness to ship without an extra box
ensuring adequate protection
Compliance requirement: ISTA 6-Amazon, SIOC
---
---
Tier 3 – Prep-Free Packaging (PFP) or Over Boxing (OB)
The product is shipped in an Amazon box, but there is no other prep needed by Amazon. There should be minimal damage rates. Optimisation potential here includes:
ensuring adequate protection
Compliance requirement: ISTA 6-Amazon, Over Boxing
---
---
Our performance lab experts are looking forward to assisting you. Please send one inquiry form per pack unit. Thank you.