Six key considerations when packing heavy and large goods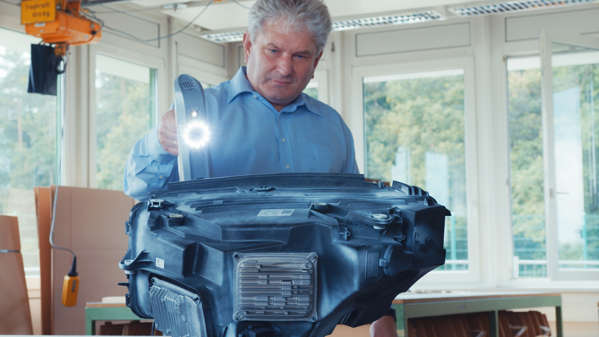 Head of product development at Mondi Ansbach Jürgen Schmidt sat down to tell us about the power of heavy-duty packaging and how it can be the right fit for your specific application and supply chain.
1) Weight
When seeking to utilise cargo space efficiently, the packaging and stacking of heavy items present particular challenges. The packaging you select needs to be durable, to protect against damage and be strong enough not to fail under the weight of the item.
"Heavy-duty corrugated packaging is constructed from very strong double or triple wall board, such as BC, CA, BCB or ACA, in the thickness range 6-10 mm (double) or 10-15 mm (triple). These transport containers can withstand a top load of one ton. Reinforcements can further increase their durability. The stac-pac solution, for example, can withstand even higher top loads. Heavy-duty corrugated packaging can therefore represent a high-performance and safe alternative to carrier systems made from wood or metal, and can be as much as 80% lighter."
2) Size and shape
Bulky items can be difficult to pack for shipping, especially if they are irregularly shaped. The right packaging is important for safe shipment, in particular when you are sending out a large item with irregular edges that could easily be damaged during transport.
"Corrugated is a highly versatile material. Based on 3D scans, we can create fittings, inserts and pillows for supporting odd-shaped items and holding them securely in place. This applies irrespective of whether you wish to accommodate a single item or multiple items in a package. Foams and other cushioning materials can often be replaced. The final packaging solution has to be designed to withstand the greatest anticipated impact on the most sensitive part of the packed product. It is therefore advisable to include the packaging supplier in the product development process. Speaking about protection – compared to more rigid packaging materials, corrugated board can buffer impacts and reduce shocks more effectively during transport."
3) Handling considerations
Throughout every stage of shipping, packages need to be moved by both equipment and human handlers. When assembling the packaging ready for packing, loading the package onto a truck with a forklift, and when it is hoisted by a team of people, easy and strain-free handling, durability and safety are key. At the same time, the packing, loading and unloading procedures have to be time-efficient.
"Heavy-duty packaging can be very large. In the automotive industry, for example, shipping containers can have a footprint of 2.20 x 1.80 metres and a volume of 2.5 cubic metres. Such sizeable packaging can be pre-assembled and delivered in clever, volume-minimised kits that can be set up for packaging by just one person in a short time. Corrugated pallet containers allow forklift access from all sides, which facilitates safe manoeuvring. For utmost packaging safety, it is important to assess potential impacts along the supply chain."
4) Type and duration of transport and distribution
When packaging is being designed and then selected by the user, the mode or modes of transport to the product's destination is a key factor. The logistics chain can include transport by air, sea, road and/or rail. The steps that need to be taken to ensure both good protection and efficient handling are influenced by the type and duration of shipping and onward transportation.
"The dimensions of corrugated solutions can be fully customised to enable you to place an ideal number of products in the pack while maximising cargo space utilisation at the same time. For air freight, the light weight of the material reduces both kerosene and carriage costs. Shipping by sea exposes the cargo to high humidity and condensation, usually over a period of several weeks, but corrugated board easily withstands these influences. At Mondi, for example, all heavy-duty board grades are wet-strength-glued and produced with high-quality papers, such as kraftliners, which ensures excellent durability over long periods and across multiple climate zones. Another benefit of corrugated is its single use; in other words, it does not have to be returned, but can be recycled at the point of use."
5) Testing shipping materials
Shipping materials have to be tested and compared to ensure that the selected solution will protect the items being transported. Although large shipping materials cannot be analysed in standard labs, testing remains essential in order to ensure the safety of those who need to transport and move the heavy packages.
"The centrifugal forces and kinetic energy encountered when the speed or direction of motion changes abruptly, or a package is dropped even from a small height, are often underestimated. Tests performed with standardised and certified equipment capable of simulating conditions along the entire supply chain are crucial for identifying and eliminating any packaging design shortcomings."
6) Saving our planet for forthcoming generations
The choice of packaging materials and design options influences the environmental impact of your products. It is not always easy to strike a good balance between protection, cost and sustainability. Alongside critical material evaluation, which is becoming ever more commonplace in industry, there are also less obvious measures that can help to reduce your products' footprint.
"Paper-based packaging is made from renewable resources and is fully recyclable. It replaces plastics and foams in applications where at least equivalent protective performance can be achieved. Responsible sourcing from certified sources of fresh fibre-based materials ensures that new trees will grow when others are harvested. Corrugated packaging has a key environmental role to play from the perspective of lightweighting, material substitution and efficient cargo space utilisation as well. But probably its greatest influence arises when a design is re-imagined in order to avoid the damage that would be caused by an alternative solution."
More on industrial packaging
Discover our easy to use, lightweight and recyclable packaging for large or heavy products. See industrial packaging in a whole new light.
You might also be interested in...