Reporting Matters 23: Mondi again recognised as a leader in sustainability reporting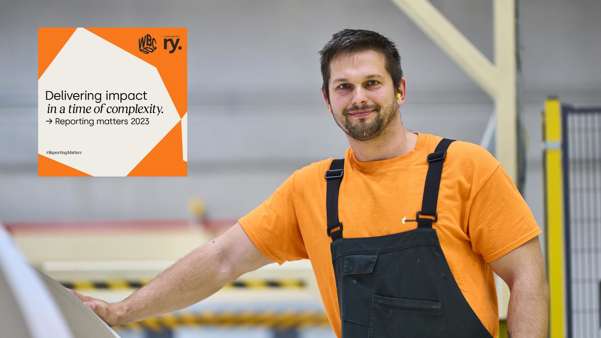 Mondi is ranked as 'Top performer' in the World Business Council for Sustainable Development's (WBCSD) 'Reporting Matters' evaluation

Mondi's leading approach to sustainability reporting has been recognised since 2018

Mondi also rated first in the 'Paper and Wood' industry by PwC Austria in their recently published 'ESG Ranking 2023'
---
Mondi has been again recognised as one of the leading sustainability reporters in the annual 'Reporting Matters' evaluation by the World Business Council for Sustainable Development (WBCSD). Mondi's 2022 Sustainable Development ('SD) report is ranked in the 'Top performer' category outlining companies with high reporting standards and precision in content and data quality.
Mondi's SD report 2022 is commended for the strong integration of sustainability in the Group's strategy and its consistent creative concept. The report received top scores in the categories of 'Completeness', 'Operating context', 'Stakeholder engagement', 'Sustainability governance', 'Strategy' and 'Partnerships & collaboration'. Mondi's SD reports have been included to the 'Top performer' category since 2018.
With the finalisation of the European Sustainability Reporting Standards and the two ISSB standards, the sustainability reporting landscape is clearly evolving. We prioritise transparent, credible content that is also informative and engaging for many different audiences, from customers to partners and investors. The recognition by 'Reporting Matters' gives us confidence that our approach to sustainability reporting remains best-in-class and will enable us to meet future disclosure demands.
Gladys Naylor, Mondi Group Head of Sustainable Development.
The WBCSD produces 'Reporting Matters' with the aim of improving the effectiveness of corporate sustainability reporting. The 2023 edition is titled 'Delivering Impact in a Time of Complexity' and has introduced an evolved evaluation framework placing a stronger emphasis on the actual impact of business activities.
Mondi's Sustainable Development Report 2022 can be found here.
WBCSD's Reporting Matters 2023 can be found here.
PwC Austria 'ESG Ranking 2023': Mondi leading the 'Paper and Wood' category
This week, Mondi has also been recognised as No. 1 in the 'Paper and Wood' industry ranking in the PwC Austria 'ESG Ranking 2023', which assess the ESG performance of the country's largest 155 companies by turnover. The evaluation focuses on the transparency of sustainability reporting and measurable improvements in ESG performance in recent years. The criteria are based on the European Sustainability Reporting Standards (ESRS). Find more here.
About Mondi
Mondi is a global leader in packaging and paper, contributing to a better world by making innovative solutions that are sustainable by design. Our business is integrated across the value chain – from managing forests and producing pulp, paper and films, to developing and manufacturing sustainable consumer and industrial packaging solutions using paper where possible, plastic when useful. Sustainability is at the centre of our strategy, with our ambitious commitments to 2030 focused on circular driven solutions, created by empowered people, taking action on climate.
In 2022, Mondi had revenues of €8.9 billion and underlying EBITDA of €1.8 billion from continuing operations, and employed 22,000 people worldwide. Mondi has a premium listing on the London Stock Exchange (MNDI), where the Group is a FTSE100 constituent, and also has a secondary listing on the JSE Limited (MNP).
---
---
You might also be interested in...