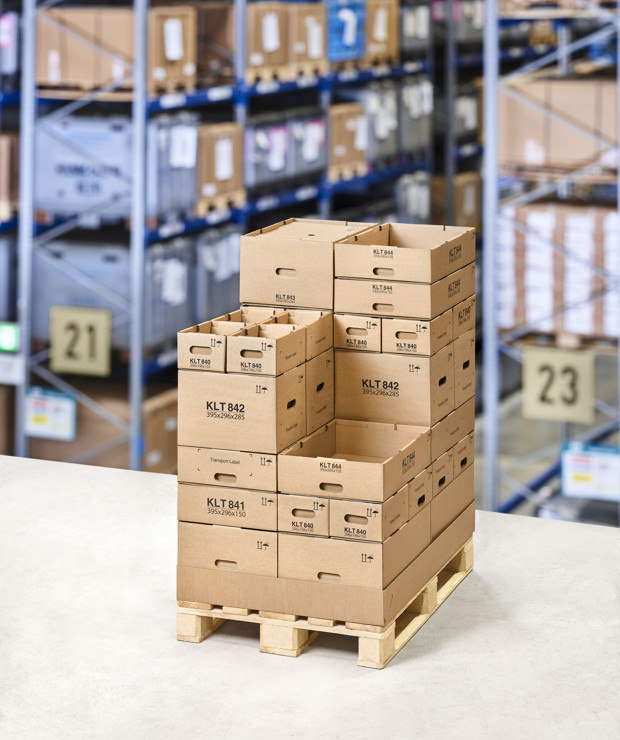 Small load carriers
From storage warehouses to internal packing stations, our small load carriers (SLCs) are a big help with all your logistics processes.
---
Low weight = low cost in shipping

Delivered flat, saving warehouse space
---
Benefits
No cleaning costs

Can be used once or multiple times

Efficient stacking
---
---
Sustainability
Fully recyclable

Responsibly sourced

Available in fresh or recycled fibre
---
---
Applications
Automatic storage of small parts

Tabular warehousing

Storage in dynamic metal shelfing

Storage in shelf racks

Transport as a transport unit (combined with other types or with units of the same type)
---
---
Perfect stackability, extremely stable, and suitable for universal use
Small-load carriers are used in the internal logistics of production sites, as well as in shipping and the value chain. So compatibility is key – for example, to make it easier to store small metal, rubber, plastic or other parts in high racks.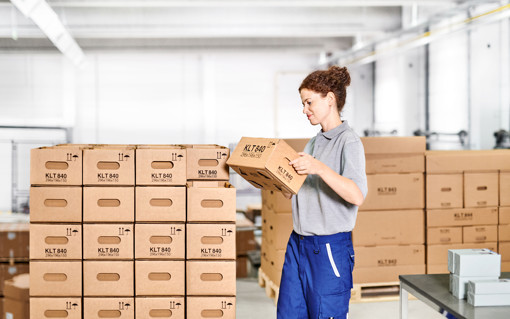 Flexible
Ready for anything
When it comes to storage warehouses and internal packing stations, our small-load carriers are ready for anything – when you're taking small items out according to a packing plan, sending them back to the warehouse, or shipping them to a different location using a shipping container or pallet.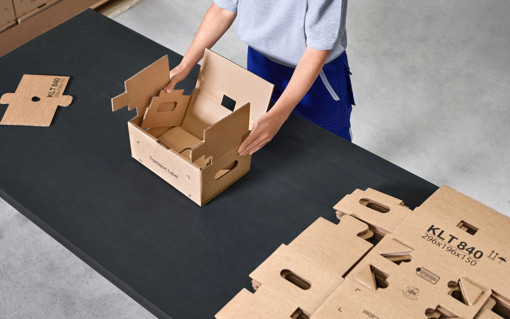 Time-saving
From flat cut into a box
Our small-load carriers are designed to be set up quickly from a flat sheet, without the need for any tools. This makes your processes faster and more efficient, and cuts costs. If requested, we can also deliver boxes fully set up.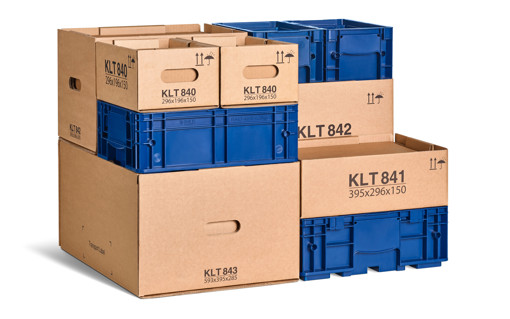 Stackable
Efficient stacking
Mondi SLCs have special, durable stacking corners, for safe and repeated stacking. These stacking corners are formed using material from the bottom of the SLC, a smart design that delivers double value: efficient use of material and better performance. Our small-load carriers also meet the requirements of the German Association of the Automotive Industry (Verband der Automobilindustrie e.V.). Individual small-load carriers can be stacked seamlessly onto others of the same type, combined with different sizes or even different standard plastic small-load carriers.
More on industrial packaging
Discover our easy to use, lightweight and recyclable packaging for large or heavy products. See industrial packaging in a whole new light.